---
Supporting Us
---
Fundraising
Like all charities SRCR need funding in order to continue supporting carers locally. Our main funding (60%) is from a contract with NYCC and the Clinical Commissioning Groups for providing a specific support service to both adult and young carers. However, more funding is always needed to ensure we keep up with the growing demand for these services as we continue to strive to develop and expand our services to the benefit of all carers locally.
---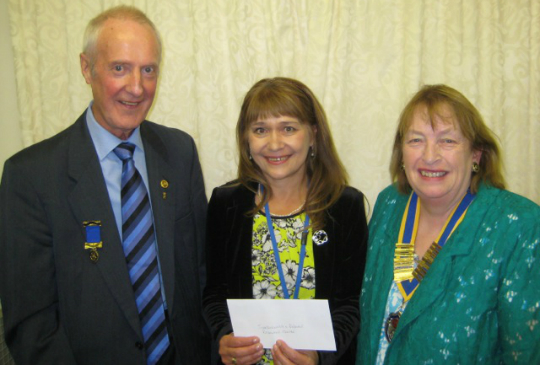 Filey Rotary Club supports carers
The Rotary Club of Filey presented Scarborough & Ryedale Carers Resource with a cheque for £900 for supporting carers in their area. 
Alison and David were very pleased to be asked to join Rotary members at a recent meeting to receive the cheque and to spread the word about unpaid carers and the fantastic job they do. 
Plans to use the money for the benefit of supporting carers have already been made - it will be used to facilitate support groups for both young and adult carers in the Filey / Hunmanby area.
Pictured above: Derek (Filey Rotary), Alison (SRCR), Susan Garnett (Rotary)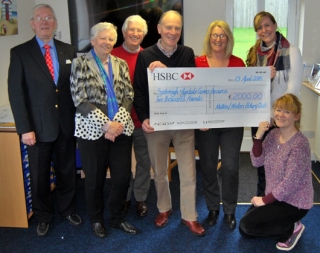 Malton and Norton Rotary support our Young Carers
A very Big Thank you to Malton and Norton Rotary Club
Pictured above from left to right: David Wright, Margaret Pepper, Tony Kingston, Keith Gibbeson, Elizabeth McPherson, Jodie Peckitt, Emma Teasdale
Scarborough and Ryedale Carers Resource were delighted to receive a donation of £2,000 from Malton and Norton Rotary to help support Young Carers.  The Cheque was presented to Elizabeth McPherson Chief Officer from Keith Gibbeson President of Malton and Norton Rotary Club.
Elizabeth said she was delighted to receive this funding, it will make a big difference to what we can now provide for young carers locally.   We will use the money to deliver some of the activities that the young carers are asking for.  I would also like to thank Malton and Norton Rotary Club for their generous offer to continue to fund another £2000, in 2017 and 2018.
Corporate sponsorship
Support from local businesses and organisations is increasingly important to SRCR.  We are lucky to have the support of Moneyweb Ltd, Financial Advisors. They have organised two events, 'It's a Knockout' and 'Bubble Football'. These were both great fun and together, raised over £8,000.
---
Thanks also to other supporters in 2017:
Wold Newton Church, Hinderwell WI Ladies Choir, Sleights Surgery, Ryedale Lions, Yorkshire Coast Homes, St Martins CE school, Filey Rotary, Malton and Norton Rotary, Whitby Endeavour Rotary, Co-op Foundation, Suddabys Crown Hotel, Malton; Filey Tesco, Filey Ladies Club, Scarborough Mayoress' Fund, Hackness Ladies Club, Wheatcroft school, Churches Together in Filey, Scarborough Municipal Charity, Making a Difference Locally.
---