---
News & Information
---

Please support Scarborough & Ryedale Carers Resource through the Local Co-op Community Fund
DO YOU SHOP AT A CO-OP?
IF YOU DO, THEN YOU CAN HELP SUPPORT CARERS RESOURCE
The Co-op are running a scheme until the 27th October 2018 to raise funds for a small number of local charities and Carers Resource has been lucky enough to have been chosen as one to support. If you already have Co-op membership, all you need to do is choose Scarborough & Ryedale Carers Resource as the charity to support by signing into your co-op account, choosing us as your charity. With any purchases you make on Co-op own brand products, 1% comes to us.
If you do not have membership and would like to support us, please ask for more details in any Co-op store. You will be issued with a temporary card for which you pay a £1 membership. When your official card arrives in the post you will receive a £1 voucher to spend. You are then able to sign up to support us on-line here.
Please help if you can - it is a great opportunity for Carers Resource to raise extra funds so we can provide support for local unpaid family carers across Scarborough, Whitby and Ryedale. This enables us to continue to provide the vital service that we know our local carers need whilst caring for others.
Please help us spread the word and tell your family and friends too.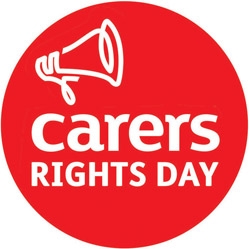 Mindfulness and Complementary Therapy Session
Join us for a special activity to celebrate Carers Rights Day
Learn practical ways to be calmer and reduce stress. Enjoy some quality time for yourself.
Where: Cross Hill Methodist Church, Hunmanby
When: Friday 24th November 10.00 — 12.30
Treatments and refreshments provided free of charge
Spaces are limited please book
For further information or to book a place please contact 01723 850155, or by email: email: staff@carersresource.net
Download a leaflet [here]. (pdf)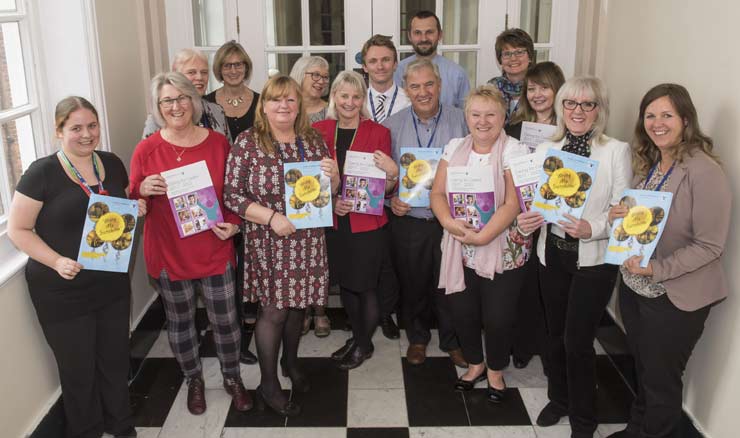 New Dementia and Carers Strategy launched for North Yorkshire
Carers and people with dementia and their relatives have joined North Yorkshire County Council, the NHS and voluntary sector launch strategies to improve the lives of carers and those living with dementia.
Carers Resource has been involved in developing the new Carers Strategy 2017-2022, pushing for issues faced by our carers to be included in the document. Our Chief Officer, Elizabeth McPherson spoke at the launch event and we were also very proud that the Young Carers #wecare video was used to demonstrate particular issues faced by Young Carers.
At least 65,000 people are carers in North Yorkshire and the county also is home to 10,000 people living with dementia.
The North Yorkshire Health and Wellbeing Board worked with people to create strategies which take account of current services, local success stories and which identify future improvements.
"Caring for Carers" North Yorkshire's new carers strategy is aimed at supporting carers to both continue caring and to have a life of their own.
Three in five people will be a carer at some point in their lives and almost everyone will know a family member, friend or colleague who is currently a carer. The strategy brings together the insight and experience of North Yorkshire carers, combined with health and social care professionals. It focuses on priorities for improvement that will make a real and valuable difference to the lives of carers in the county.
Download a copy of the Carers Strategy, "Caring for Carers 2017 - 2022" (pdf)
Download a copy of the Dementia Strategy Summary, "Bring me Sunshine - Living Well With Dementia in North Yorkshire" (pdf)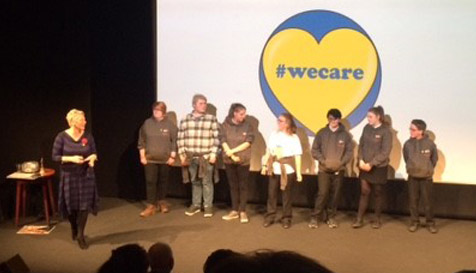 Young Carers launch their new #wecare video at a red carpet event at the Stephen Joseph Theatre
A new information video about and for Young Carers
Thursday evening (November 9th) saw an exciting and special event take place at Scarborough's Stephen Joseph Theatre when Scarborough & Ryedale Carers Resource was joined by over 80 friends, partners and family members together with members of the Young Carers Youth Council to celebrate the launch of their new video #wecare.
The video was conceived and produced by the Council's members to raise awareness and provide information about the many Young Carers who carry out such a valuable but often unsung role in our society. We were all very proud of our Young Carers Youth Council and their efforts to extend the impact of their #wecare campaign.
"In September 2016 a strong and confident body of young carers came together to form our Youth Council. Their mission was simple: they wanted to make life easier and fairer for young carers in the future; they wanted to educate adults; they wanted to improve school life and school experiences. With the help of this film they hope to make even more adults think before applying the standard rules and to make them think 'sometimes young people have reasons'..."
Take a look at the video... it's here!
Find out more about Young Carers and the Young Carers Service... it's here!
Or for more information contact Carers Resource by phone: 01723 850155, or by email: email: staff@carersresource.net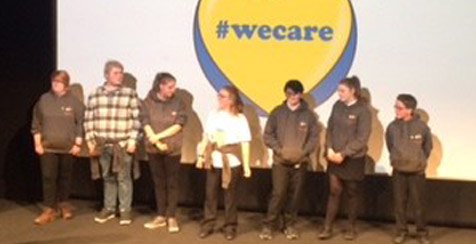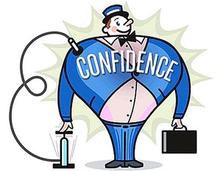 Caring with Confidence
For all Carers - sessions starting 24th January, 2018
To be held at Scarborough Dial A Ride, Londesborough Road on Wednesdays from 10-12 noon
'Caring with Confidence' provides the carer with five free 2 hour sessions that will explore all aspects of the caring role. 24th January - 'Caring & Communication'; 7th February - 'Caring, Coping & Life'; 'Health & Wellbeing' - 21st February; 'Caring Day-to-Day' - 7th March; 'Caring & Resources' - 14th March.
Recognise your skills, knowledge and experience with other carers. Have fun. Free to all carers. Attend one or all sessions.
Places limited for further information contact Carers Resource by phone: 01723 850155, or by email: email: staff@carersresource.net
Download a leaflet [here]. (pdf 368k)



Carers Mindfulness Group
For beginners & those already practicing. Have some quality time for yourself.
More and more people are realizing the benefits of Mindfulness and we would like to offer the opportunity to more carers. Our group meets at St. Catherine's, Board Room on the first Thursday each month from 1.30 to 2.30pm.
All carers are welcome, no need to book. Come to any or all of the sessions start time 1.30pm. Future dates are 7th December, 4th January, 1st February and the 1st March.
For further information contact Carers Resource by phone: 01723 850155, or by email: email: staff@carersresource.net
Download a leaflet [here]. (pdf 500kb)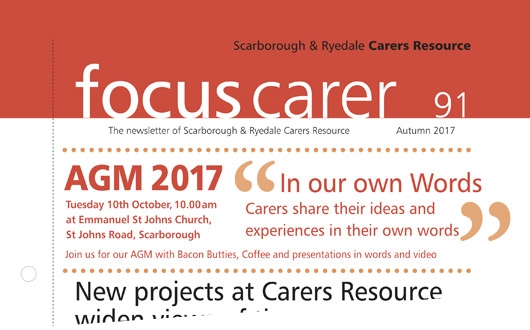 This Autumn 2017 edition of Focus Carer features 12 pages of news and information. Updates from all Carers Resource projects; news of our upcoming AGM and 'In our own words' presentation (which features words and video from Carers, Young Carers and Young Adult Carers. We also feature a survey which we hope users of our service will complete and return to us, together with the AGM reply page.
Download your copy of Focus Carer [here]. (pdf 1.6mb)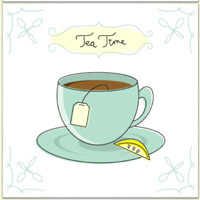 Carers Cuppa & Wellbeing Group
Drop in for a chat and a cuppa, share ideas of how to unwind. Time to rest and relax, have some quality time for yourself.  A Support Worker will be on hand to answer any questions.
Pickering Cuppa and Wellbeing Group
Venue: Friends Meeting House, Pickering
When:  Wednesdays from 10.00am-12noon
Dates: 20th September, 18th October, 15th November
The Cuppa Club is usually the third Wednesday of every month at this venue
If you would like more information please contact the office on 01723 850155 
or e-mail staff@carersresource.net
---
Focus Carer Newsletters
---
Steering Group Dates 2017
The Young Adult Carer Project is advised by a steering group made up of professionals from other organisations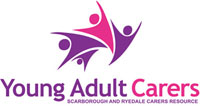 The steering group exists to help grow the project with a view to achieving its maximum potential. As a professional you may encounter Young Adult Carers as part of your daily work who may not be aware of the help available to them. We are looking for your support to help us identify 'hidden carers' and to develop the project to meet their needs. 
Dates for future meetings: 15th December 2017 
at The Stephen Joseph Theatre, Boden Room
If you are an interested professional and would like to join us please contact David on 01723 850155 or david@carersresource.net
---
North Yorkshire Carers Support Service
- Initial Contact Form
As an intitial point of contact with the Carers Service the NYCS has provided this Initial Contact Form. If you would like support from Scarborough & Ryedale Carers Support, please download and complete this form (we've provided it in either Word or pdf versions) and return it by email or post to our address, provided on page 2 of the form, or find it [here].
You can still contact Carers Resource by phone: 01723 850155, or by email: email: staff@carersresource.net
Download our NYSS Contact form, (Word 36kb)
Download our NYSS Contact Form, (pdf 64kb)
---
---