---
News & Information
---
Rotary Award
Whitby Endeavour Rotary recognise Carers Resource worker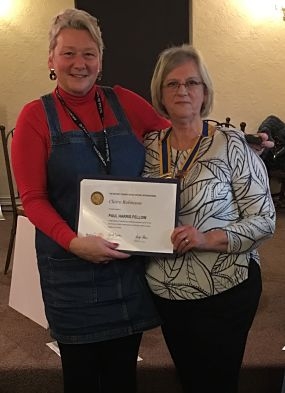 Congratulations and well-deserved recognition to Claire Robinson, Development Manager at Scarborough & Ryedale Carers Resource. Claire first came to the organisation as a Young Carer Support Worker and it is her achievements in this role that have been recognised.  Whitby Endeavour Rotary presented Claire with the Paul Harris Fellowship Award at their meeting on 14 November 2018 to commend her work with Young Carers and the contribution to the community.

The Paul Harris Fellowship is one of the highest honours Rotary can bestow on a person. Recipients are members of the Rotary and community professionals recognised for their outstanding contribution to the community exemplifying the highest ideal in Rotary of Service above Self. 
NYCC consultation on Adult Social Care
Adults who use social care are asked for their views on charges
People and their families who use adult social care services in North Yorkshire have the chance to give their views on how they pay for them.  They are being consulted on proposals about how people who use adult social care services contribute to their costs. The consultation will cover two main areas:
 
1. The cost of transport provided by adult social care to places where people receive a         service – for example a day care centre
2. How the total cost of care is calculated and the amount people may be asked to contribute in the future. 
 
County Councillor Michael Harrison, executive member for adult social care and health integration, said: "In February, county councillors approved the adult social care budget and agreed to look at reviewing our charging policy. Since then we have been talking to residents and service providers to look at ways in which we might do that.
 
"In North Yorkshire, it's crucial to us to support adult social care as much as possible. We have welcomed additional funding from Government, we have raised additional Council Tax through the social care precept and we have protected budgets, as much as we can, to the point where social care is now nearly 45% of all that we spend.
 
"However, given that adult social care is our largest budget – and we have other important commitments, to children and parents and to road users, for example – we still have had to make savings. We continue to lobby Government for a long-term sustainable solution to funding adult social care and look forward to the forthcoming Green Paper, and the next Spending Review, which we hope will set out the Government's proposals.  In the meantime, we must continue to look critically at how we spend taxpayers'money and how it can be spent better.
 
"We are now consulting about our proposals for changing the way we charge for some adult social care services and want as many people as possible to take part in this consultation. People's views will form a very important part of the decision making process.
 
"If the decision is made to implement the proposals, the changes would not begin until April next year and we will also take steps to advise people on how they can claim other benefits and support to which they may be entitled."
 
The County Council has produced a consultation document that explains the proposals. The document is on the County Council website together with the survey at  https://www.northyorks.gov.uk/current-consultations  The survey is open until Monday 21 January 2019.  
 
 To request the documents in another format, such as large print, audio, or easy read (words and pictures), please ring the County Council's Customer Services Centre on 01609 780780.  
 
The County Council is also holding information sessions.  The ones in our area are:
 
19th November 2018 at 10:00 am. The Council Chamber, Ryedale District Council, Ryedale House, Old Malton, Malton, YO17 7HH.     
27th November 2018 at 10.30 am. Hall B, The Street, 12 Lower Clark Street, Scarborough, YO12 7PW.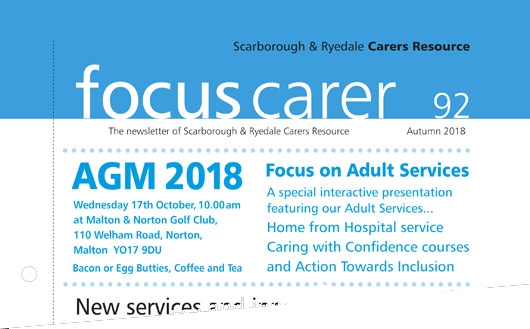 Focus Carer is the house newsletter or Carers Resource. This latest 14 page edition will bring you up-to-date about projects and work you perhaps have heard about - our Adult Service, Young Adult Carers and the Young Carers Service - and also introduce you to some new innovative services such as Home from Hospital, the Wellbeing and Prevention Service and Action Towards Inclusion. We also feature a survey which we hope users of our service will complete and return to us, together with the AGM reply page. Download a pdf copy by clicking on the link below! 
Focus Carer Autumn 2018 web.pdf (4.5MB)
Caring with Confidence
If you're an adult and care for someone, this course is for you.  Dates for future courses will be posted here when they are confirmed.  For an overview of what the course covers see the link below for details on each of the sessions, though please note the dates are no longer valid.
Click here for leaflet CwC Ryedale leaflet 2018.pdf (333.4KB)
We Royally Care
Young Carer and Mum attend the Royal Wedding
What an amazing adventure for Harry and his mum, April.  Thanks to the support and invitation from Scarborough Rotary Club and the North Yorkshire Lord Lieutenant, Harry and April went to the wedding of the year!
 
The whole weekend was over too fast but both Harry and Mum had a fantastic time travelling down and across London on the busiest weekend of the year to see the most memorable moment in recent history.
 
Battling crowds and traffic they arrived at Windsor Castle very early on the morning of the wedding to secure a great vantage point. They watched and celebrated the whole thing in the private grounds of the Castle, with a perfect view of those arriving to help Harry and Megan celebrate their big day.
 
Harry felt proud to wear his Number One, Sea Cadet's uniform and Mum felt very special dressing-up for the occasion. It proved to be a very long and busy day but Mum commented 'it was wonderful to be a part of history in the making; it has been an honour to be asked, thank you to the Rotary Club for giving us this opportunity'.
 
Harry and Mum secured a place at the front of the proceedings,  having an excellent view of the celebrities arriving and the royals in their cars.  They waved at the Royal carriage as Megan and Harry sailed close by them.  The day included an interview with ITV (Harry was very excited to be on telly!) and a walk through the church where everything happened. April commented 'The flowers smelt as beautiful as they looked'.
 
We are really thankful to all that helped make this happen. 
Amazon Smile – Giving Scheme
We are encouraging everyone who shops on Amazon to take advantage of their charity donation scheme. Please click the link below and choose Scarborough and Ryedale Carers Resource as your chosen charity to support. After that, every purchase you make will make a direct donation to us! This will not cost you anything extra, it is Amazon that makes the donation, not you. Thank you for your support! 
Click the Amazon Smile logo below to register Scarborough and Ryedale Carers Resource as your chosen charity to support.

Carers & Employment
How you can support carers in your work place or gaining employment. 
Carers and Employment Factsheet.pdf (349.3KB)
Beth - our Lions Young Ambassador
Update from the National Finals - how did Beth do?

Support for Scarborough & Ryedale Carers Resource through the Local Co-op Community Fund
Thank you to everyone who chose to support Carers Resource through this scheme.  You have helped us raise over £7,000!!  A fantastic amount!
This money will help us support more carers and vulnerable adults in the local area.
Two new Strategies launched for North Yorkshire
Carers Resource has been involved in developing the new Carers Strategy 2017-2022, pushing for issues faced by our carers to be included in the document. Our Chief Officer, Elizabeth McPherson spoke at the launch event and we were also very proud that the Young Carers #wecare video was used to demonstrate particular issues faced by Young Carers.  For full story see here.
Download a copy of the Carers Strategy, "Caring for Carers 2017 - 2022" (pdf)
Download a copy of the Dementia Strategy Summary, "Bring me Sunshine - Living Well With Dementia in North Yorkshire" (pdf)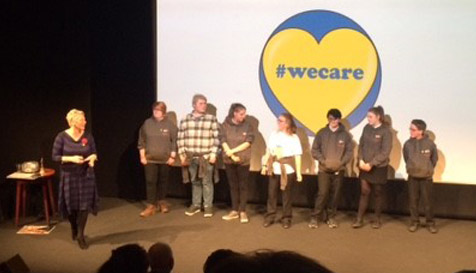 #wecare launch - SJT rolls out the red carpet for Young Carers
For the full story of this spectacular evening see here
Take a look at the video... it's here!
Find out more about Young Carers and the Young Carers Service... it's here!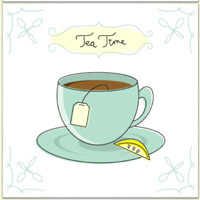 Carers Cuppa & Wellbeing Group
Drop in for a chat and a cuppa, share ideas of how to unwind. Time to rest and relax, have some quality time for yourself.  A Support Worker will be on hand to answer any questions.
Pickering Cuppa and Wellbeing Group
Venue: Friends Meeting House, Pickering
The Cuppa Club is usually the third Wednesday of every month from 10am-12noon
If you would like more information please contact the office on 01723 850155 
or e-mail staff@carersresource.net
---
Focus Carer Newsletters
---
Steering Group Dates 2018
The Young Adult Carer Project is advised by a steering group made up of professionals from other organisations  
All meetings held in the Boden Room, Stephen Joseph Theatre, Scarborough
 14th September, 14th December
If you are an interested professional and would like to join us please contact David on 01723 850155 or david@carersresource.net
---
North Yorkshire Carers Support Service
- Initial Contact Form
As an intitial point of contact with the Carers Service the NYCS has provided this Initial Contact Form. If you would like support from Scarborough & Ryedale Carers Support, please download and complete this form (we've provided it in either Word or pdf versions) and return it by email or post to our address, provided on page 2 of the form, or find it [here].
You can still contact Carers Resource by phone: 01723 850155, or by email: email: staff@carersresource.net
Download our NYSS Contact form, (Word 36kb)
Download our NYSS Contact Form, (pdf 64kb)
---
---